Welcome to the John Ebner Studio

"MORNING PROMISE"
The transition of the mist of night to the promise of a a glorious day.




The winner of the print is Chris Chesley of Anacortes

Thank you very much for all who submitted names!


Join our invitation list on the upper left!

Join us for the 15th Annual Studio Tour

May 10-12 & May 18-19
10 am to 5 pm







Ebner Biography

A Northwest native, John Ebner, born in 1943, grew up on the family farm in Sublimity, Oregon.

Ebner has been painting watercolors since 1973 when his wife Paula signed him up for a watercolor course as the start of a new hobby.

Considered the area's most collected artist, John has painted and studied the area for the past 35 years.

He has become intimate with the many moods of the Puget Sound area with its mist, fog, rain and four distinct seasons.

"My paintings are a contrast of soft and hard edges, warm and cool colors, light and dark values." " My goal is to capture the mood and essence of the scene."

Ebner's passion for serenity is reflected in his passion for the world he paints. Water, in its many forms, is one of the most predominant elements in his work. Water in the Pacific Northwest after all becomes waterfalls, mud flats, rivers, seascapes, beaches and mist. These recurring elements and the impressionistic colors that define the Northwest have endeared his paintings to anyone who loves this special place.

Johns soothing impressionistic style is a favorite of designers working with homes, corperate offices, doctors offices and banks.

John is a past president of the Northwest Watercolor Society and a life member of the Puget Sound Group of Northwest Painters.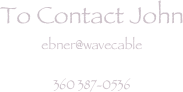 To be notified of new shows, original paintings and new limited editions, click on "Join Mailing List" in left column.
Copyright 2000-2013,

360-387-0536 Email: ebner@wavecable.com